Gameshow Mogeko is a character in the Mentality Fanfic Series.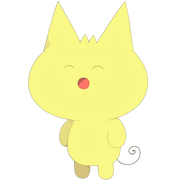 History:
In Emotivity - Morality, when Burukku and Neisan approached him, he decided to give them a quiz show, before letting them pass. After a confusing question, he left to sleep in his room. He has not been seen since.
Personality:
He has a grandiose kind of personality due to acting like he's a gameshow host.
Trivia: