Furire are enemies in the Mentality Fanfic Series.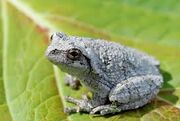 Appearance:
Light grey/white frogs.
History:
Created to be one of the kinds of extensions for sebasuchan for the Upper floors of Mentality.
Personality:
Single-minded, as with all types in Ningoth.
Powers:
Paralysis
Trivia:
Fur is the hair of some animals, and ire is anger. Basically, Furire means: Anger at Hair.
Ad blocker interference detected!
Wikia is a free-to-use site that makes money from advertising. We have a modified experience for viewers using ad blockers

Wikia is not accessible if you've made further modifications. Remove the custom ad blocker rule(s) and the page will load as expected.