Burukku (Bad End) is a character in the noncanon bad ends in the Mentality Fanfic Series.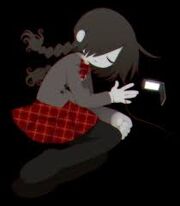 History:
There are currently six different individual Burukkus that hold the title of bad end.
In Mentality, two appear in the bad ends.
1st: In Bad End 2, Burukku dies with everyone else due to a comedic scene of nonstop yodeling.
2nd: In Bad End 6, Along with everyone else, Burukku falls down a trapdoor and ends up in a room. After meeting and arguing with a mysterious voice, they are left trapped there.
In Emotivity - Morality, four appear in the bad ends.
3rd: In Bad End 1, Burukku and Neisan get assimilated with the darkness of Mogeko Castle.
4th: In Bad End 2, after accidentally going through the wrong door, Mogeko Larvae then lay eggs inside her.
5th: In Bad End 3, Burukku gets eaten alive by the Mad Mogekos.
6th: In Bad End 4, Burukku gets caught by Moge-ko and ends up tied to a cross, stark naked. In Bad End 4 part 2, Moge-ko tortures Burukku erotically.
Personality:
See: Burukku Eichi